Lack of fresh investment, undiversified product line key reasons
Bangladesh apparel sector's contribution to gross domestic product (GDP) declined for the last five consecutive years for lack of product diversification and sluggish private investment in the sector.
According to the Bangladesh Garment Manufacturers and Exporters Association (BGMEA) data, RMG sector's export contribution to GDP came down to 11.17% in the fiscal year 2017-18, which was 14.17% in FY2013-14, down by 3 percentage points.
Service sector contributed the highest to GDP, which was 52.11% in the last fiscal year. But the sector's contribution to GDP also saw a downtrend by 0.74 percentage point in the last fiscal year.
In fiscal year 2017-18, industry's contribution to the GDP increased by 1.24 percentage point to 33.66%, which was 32.42% in the previous year, while manufacturing sector's contribution to GDP rose by 1.11 percentage point to 22.85% riding on the large and medium scale manufacturing sector, which contributed 19.09%.
However, the overall contribution of merchandise exports to the country's GDP came down to 13.37% in fiscal year 2017-18 from 13.95% in previous fiscal.
In FY18, Bangladesh's GDP was Tk22,504,793 million at current market prices, while earnings from overall merchandise export was Tk3,010,456.75 million, Bangladesh Bureau of statistic data showed.
The RMG sector, the lifeline of the economy, has contributed Tk2,513,471 million or 11.17% of GDP in the last fiscal year.
In 2017-18, Bangladesh registered a 7.86% GDP growth, which was 7.28% in the previous year.
Trade analysts and businessmen have said lack of product diversification within the apparel sector and sluggish private investments caused the negative trend in export contribution to GDP.
Why contribution to GDP declining
"After the Rana Plaza incident, the apparel sector went through a dull time for structural reforms to ensure safe workplace, compliance and labor rights issues. But now the sector is performing well and the confidence was restored to the sector," World Bank Bangladesh Lead Economist Zahid Hussain told the Dhaka Tribune.
Export earnings from the apparel sector are highly dependent on four to five products, while diversification within the apparel sector is not taking place, which is why export earning fails to keep pace with the GDP growth, he thinks.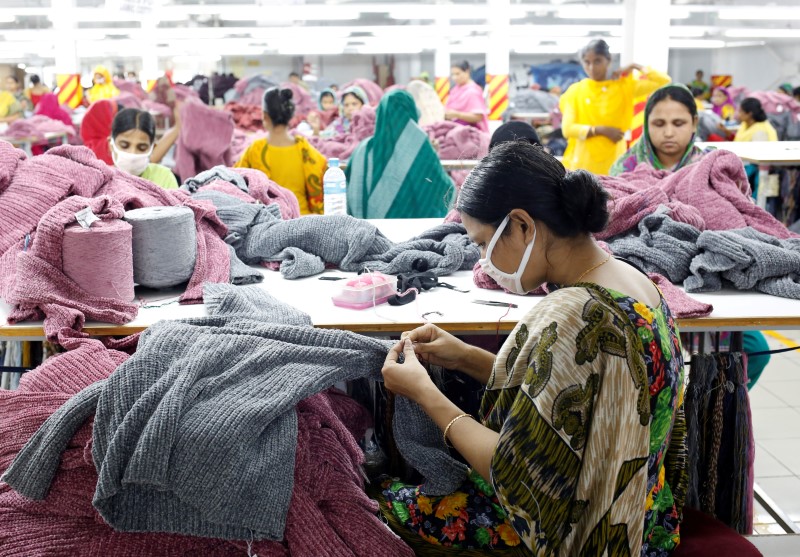 In addition, the downward trend in GDP contribution of apparel export is not a good sign for the economy as it contributes nearly 84% to the overall exports, he points out.
"Not only the apparel export but total export contribution to GDP fell in recent years. This is not good for Bangladesh, which is now at its early stage of development," Policy Research Institute (PRI) executive director Ahsan H Manusur told.
Bangladeshi currency is overvalued against the US Dollar, which does not support the export sector, Ahsan says.
On the other hand, due to higher protection regime, investment is being made inefficiently and mostly in import-based sector, he mentions.
However, apparel makers think that lack of new investment and price cut by the global brands and retailers have cast shadow on the export earnings. Though there has been growth, its contribution to GDP keeps falling.
"In the last few years, there was not much new investment or expansion in the existing business as the apparel makers had to invest a huge amount of money to improve safety standards as prescribed by the global retailer platforms, Accord and Alliance," Exporters Association of Bangladesh (EAB) president Abdus Salam Murshedy told the Dhaka Tribune.
As a result, new investments for expansion or new projects did not take place in the apparel sector, said Salam.
In addition, global apparel buyers are continuously cutting prices for apparel products, which has brought down the profit margin, he says.
"As a result, export earnings did not grow as expected, causing the apparel export to GDP ratio to come down," he adds.
According to Bangladesh Bureau of Statistic (BBS) data, in 2017-18 fiscal year the total investment to GDP was 30.51% — 23.10% coming from private investment and the rest 7.41% from public investment.
How to increase contribution to GDP
Apparel sector contributed 83.49% or $30.61 billion to the country's total export earnings of $34.66 billion in 2017-18 fiscal year.
Experts strongly suggest product diversification and new foreign investment in manufacturing sector, particularly in value added products.
"RMG sector is mostly focused on manufacturing basic and low-value products. The apparel makers have to concentrate on new markets and product diversification," ABM Azizul Islam, former finance advisor of a caretaker government said.
"To diversify goods, the government as well as the manufacturers have to invest more in research and development," added the economist.
On top of that, the government must remove the trade barriers such as port congestion and infrastructural deficiency to reduce lead time, which was essential to attract buyers' attention, said Zahid Hussain.
Bangladesh would no longer remain competitive with its low cost labor advantage, he said, suggesting that product development was a must with increased productivity through skill development trainings.
However, the sector has to increase investment from home and abroad to enhance production capacity.
"Private sector investment from home and abroad is key to increasing contributions to the GDP as it helps to increase production capacity," Mohammad Hatem, former vice president of BKMEA, told the Dhaka Tribune.
However, experts called for allowing foreign investments in the apparel sector only for producing the value added and hi-tech products as it would help to transfer knowledge and experience.
Share: